BrightSign XD1030 Media Player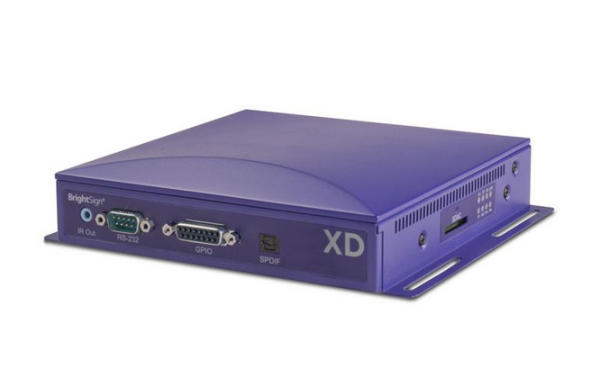 Ideal for direct input into CRT monitors or HDMI displays with a wide range of interactive options using GPIO, USB, serial and UDP devices.
Perfect for simple seamless video looping or video playlists
Fully automatic and super reliable A/V playback with looping video content from switch on
1080p video playback
Output video resolution from PAL/NTSC up to 1080p
Video outputs HDMI digital and VGA 15 pin analog
RGB and composite via optional adaptor cable
Network multiple players for tightly synced content across multiple screens, TV walls or projectors
Free content loading
Dimensions: 124.8 x 32.2 x 136.6 mm
Power 5vdc/2.8A/10.5W
Services
We will load a single MP4 or MOV file of up to 1GB free of charge. Transfer it to us three working days before your hire date and it will be ready to roll when you connect to your projector or screen. Please ask for a quote if you have multiple files or if you require your content to be scheduled to auto switch on/off at different times of day, week or month.